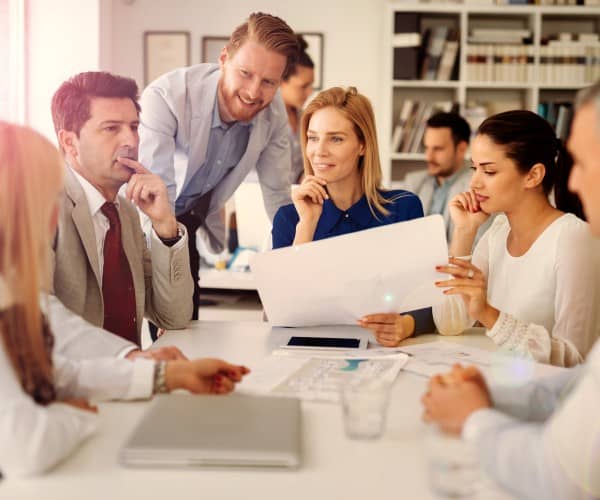 Based in Cleveland, Ohio, McCarthy, Burgess & Wolff (MB&W) was founded by two collection veterans with one important goal in mind: to provide a simple, stress-free experience for clients looking to improve portfolio liquidation. This is achieved through creative collection strategies, technology and execution in conjunction with a talented and dedicated staff.
MB&W has grown to be one of the largest collection agencies in the U.S., having collected more than $1 Billion for our clients over the last decade. Our drive and exceptional personnel, along with proven strategies and technologies, have increased portfolio liquidations and brought peace of mind to our clientele.
What Makes MB&W Unique?
Custom built recovery programs

Recovery programs segmented by Industry

Recovery programs segmented by Client

Voice Analytics Technology (Key Words, Key Phraseology, Voice Inflection)

Individual Portfolio Trending Analysis

Dual methodology combining customer service and portfolio liquidation

Customer Service oriented recovery programs

Custom built outsourcing (1st Party) solutions

Real-Time reporting and access to recovery system

Innovative technological solutions and capabilities

Expertise, Compliance, Reputation
Consistent Commitment To Quality Excellence
Led by two expert collection visionaries, MB&W has the most tenured receivables management staff in the business.  MB&W gets to the root of complex client issues faster, and with an ease of doing business unlike anything our competitors provide.
All pre-hires undergo comprehensive industrial psychological testing to determine each staff member's fit within our organization.  Once on board, each employee receives intense business unit and portfolio-specific training from our dedicated trainer, and ongoing remote monitoring by our audit department to ensure quality excellence.
Our "TEAM" follows a distinct client service discipline in managing your portfolio activities:
Total integration between MB&W and our client's systems and processes
Executive Support –  ISO 27001 and SOC II Type II Certification
Advanced Technological Capabilities
Management Responsiveness
MB&W builds a team around you.  We apply our skills and adapt our technology to meet each portfolios unique needs.  During the on-boarding process, our management team partners with our clientele to establish an individual and customized approach for portfolio liquidation, customer care handling, EDI protocols, reporting, and preferred communication schedules.
What Can Be Conceived Can Be Achieved.
is a career collection executive with a proven 30+ year track record of success providing recovery strategies for clients within defined market segments. Freida works closely with clients to determine the best strategy to optimize recovery results on their portfolio. Through her discipline, creativity and true partnerships, Freida has helped clients establish best practices and streamline operations to gain substantial cost savings. Never satisfied with the status quo, Freida regularly educates herself on emerging trends and technological innovations in order to further enhance the overall quality of MB&W's offerings. Freida attends major industry events, and actively participates in the growth and evolution of the recovery industry. Freida has a BS in Business Management from The Ohio State University.
is a seasoned veteran with over 30 years of leadership experience in the ARM industry. He has a strong track record of driving growth through operational excellence, brand protection and developing creative solutions to meet client needs. Brett most recently served as the COO of Contract Callers Inc., where he transformed business results though the implementation of an omnichannel collection process, automated compliance controls, and a relentless focus on client satisfaction. Before that, Brett was a Vice President of Operations at GC Services, where he managed operations for their key bankcard, loan, auto and telecommunication clients. Brett is a 1991 graduate of Otterbein College in Westerville Ohio where he earned a Bachelor of Arts degree and majored in Business and Organizational Communication.
has over 40+ years of agency ownership, experience and entrepreneurial success. He is a visionary in recognizing industry trends, and in the creation and improvement of customized recovery programs. Steve has founded two separate companies that have become industry leaders within the first five years of their existence. Steve initially founded Grable, Greiner & Wolff in 1980, and grew this agency to become one of the premier commercial collection agencies in the nation. In August of 2000, Steve (along with partner Freida Burgess) established McCarthy, Burgess & Wolff. Through Steve's business acumen, best practices, total quality management philosophy, and thorough understanding of the dynamic collection environment, MB&W has become one of the most innovative collection agencies in the nation. Clients have come to count on Steve to provide premier service, quality, and productivity throughout the entire lifecycle of the recovery process. Steve is directly responsible for creating and deploying effective recovery processes through the integration of emerging technologies that cater to each client's unique recovery needs.
Collection Staff
Experience, Accountability, Results.
Outstanding service is recognized at MB&W. We provide our Collection Staff with rewarding compensation programs to instill a sense of ownership in the results of their efforts. We acknowledge that these career professionals are a significant reason MB&W is able to achieve great results of our clients.
Our Collection Staff is comprised of seasoned, experienced collection professionals. Additionally, the Collection Management Staff in each of our business units has at least 20 years of experience in the collection industry. Our Collection Staff is uniquely segmented into business units dedicated to specific industries – ensuring the greatest impact for our clients' diverse recovery needs.
Client Services
A "No-Fuss" Process That Nets Big Results.
We believe a truly worry-free partnership is built on a fusion of best business practices and disciplines, working toward one efficiently run engine. Our Client Services team has made this our mission. We have succeeded.
Each MB&W client is paired with a Client Services Representative who becomes the expert in that client's day-to-day requirements. Every CSR has the skill set to recognize when to involve a client in the collections process – and more frequently, when it's something we have the know-how to resolve internally.
That's the core value you gain from the MB&W relationship — more manageability and control over the communication process, without being inundated with requests for information and guidance.